LIQUID MEMORY - fitted sheet
made of soft 100% cotton jersey knit fabric
szt.

€85

Availability:

in stock

Add feedback:



Liquid Memory
We've been thinking for a long time about introducing sheets with the Liquid Memory pattern to the store. You often asked about it, but we were not convinced of this idea. We thought the pattern itself was too beautiful to be hidden under the quilt! 
Ola Morawiak, the author of the project, amazed us with it from the very beginning. Since we saw it for the first time, we knew that it needed nothing more.
The multitude of details and colours in this pattern means that an additional sheet with the same motif could lead to nystagmus, and we wouldn't want to expose you to it.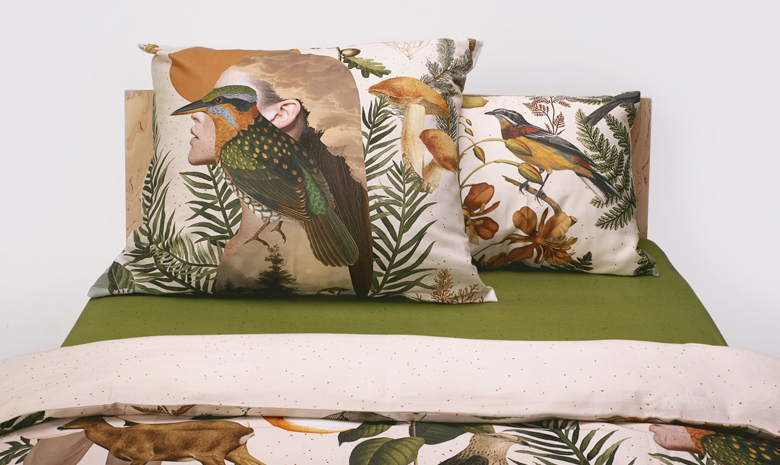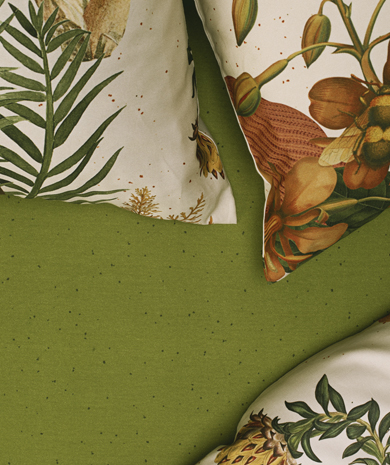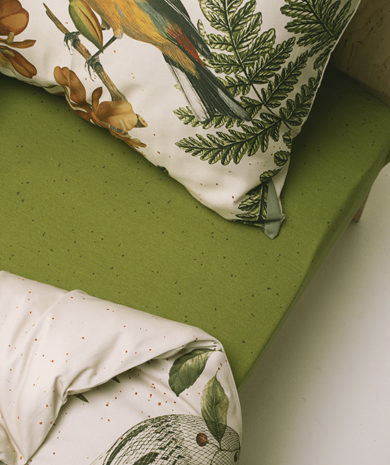 Green and dots
We finally came to the conclusion that the sheet is necessary, but it should be a background for the work of art that Liquid Memory undoubtedly is. After long lasting debates on the final appearance of the sheet, we came to an agreement and chose the green colour, taken from one of the elements of Ola's pattern, and we added dots referring to the background that Ola used in her composition.
This sheet, in combination with Liquid Memory bedding, is an interesting accent on the bed, but at the same time it doesn't overwhelm, only enhances the whole pattern.
Juicy green soothes the senses and invites to enter the amazing, oneiric and intoxicating world created by Ola Morawiak.
The sheet is made of high quality knitwear, very pleasant to the touch. Elastic band makes the product fit perfectly. The sizes we offer reflect the dimensions of the mattress for which the sheet is intended.
Each sheet has an additional 25 cm of material on each side, taking into account the height of the mattress.
Fabric: 100% cotton sateen certified with the OEKO-TEX® Standard 100
Pattern: green and dots
Sizes (cm): 90x200, 120x200, 140x200, 160x200, 180x200, 200x200, 200x220
If dimensions of your fitted sheet are different than sizes suggested on our web page, please write us an e-mail at hello@foonka.store and we will make for you your own special sheet!
Fabric and production
The product was made mainly with quality in mind. The fabric is 100% cotton weaved and printed in Łódź in compliance with the most stringent requirements of the Oeko-Tex® Standard 100 certificate. It is soft and durable, and the photorealistic print renders every detail and shade remarkably accurate.
Behind our each design there is a different story, and each of them holds its own original surprises. Following the zero waste rule, we try to limit the amount of produced waste to the minimum. That is why every our product is cut out from the fabric randomly to save on scrap. It is extremely difficult to find two identical pillow cases or tablecloths with the same elements placed in the same spots.
100% designed and made in Poland EU